Disposers in commercial foodservice operations can help reduce trash-hauling costs by decreasing waste, eliminating food waste odors and decreasing labor by minimizing trips to the dumpster. Disposers often come with a control, sink or sink mount for existing sinks, stopper, water inlet hardware, back flow preventer, solenoid valve and flow control.
This equipment is typically installed in dish tables and pot/pan sinks as well as in vegetable prep, salad prep and meat prep areas. While a commercial disposer is more durable than the residential type and is capable of grinding more items, manufacturers still recommend using these units only for edible food waste. This is because some waste, such as corn husks and seafood shells, can clog drains…
It's important to note that the disposal of any effluent into municipal wastewater (sewer) systems is typically governed under municipal by-laws/ordinances and enforced at the local level or through a regional municipal authority, in accordance with state and federal environmental legislation. These ordinances detail permissible limits of various materials and chemicals that can be present in effluent that is being disposed of into the municipal waste water system, and that ultimately need to be processed and treated at the wastewater treatment plant…
Cleaning and Maintenance
Operators should consider a variety of factors when it comes to the use and maintenance of disposers. First, do not use these systems to dispose fat, oil and grease. Also, batch feeding food waste into disposers blocks water, resulting in drain line clogs. For clogs, fill a 5-gallon bucket with cold water and run it through the disposer to push waste through.
After feeding product through the disposer, operators should allow cold water to run for 10 to 20 seconds to ensure small particles push to the main sewer line. Do not use hot water as doing so can melt fat and allow it to solidify and block the drain line. Keep plastics, silverware, straws and other non-food items away from the disposer to minimize jams.
Only use disposers with the appropriate food waste. Some food scraps, like potato skins, can build a layer inside the unit and dull the blades quicker. This also turns into a paste that drags motors down. Also, the higher the horsepower, the more volume the disposer can handle. It also helps to start and stop the unit as much as possible since the blades go in different directions when power is interrupted.
Many people think disposers have blades that spin, but this isn't the case. These units use two weighted pieces on a spinning disk that throws food onto blades at the sides of the machine. Putting inappropriate food waste down disposers can clog the drain and grease trap, which is difficult to empty out…
Read the full article at: https://fesmag.com/products/guide/sanitation-and-safety/disposers/17910-disposers
Should I replace my Garbage Disposer?
The life expectancy of a disposer depends on the type of food it grinds, the food's composition and how long the unit is in operation. Life cycles range from 3 years up to 20 years, with an average service life of 5 years for disposers that are cleaned and properly maintained.
Signs that indicate a disposer needs replacing include increased grind time, which can be caused by blades wearing out, motor failure or smoke, cracks, unusual or excess noise, and frequent repairs.
Commercial disposers that are 5 HP and up can be rebuilt, but with smaller units, too many things can go wrong, and it's not worth the cost. Also, disposers with leaks in seals or shafts should be
But we suggest that you don't replace a Garbage Disposer with another one that will just break again. Get the Garbage Disposer alternative: The A6 Wet Waste Interceptor!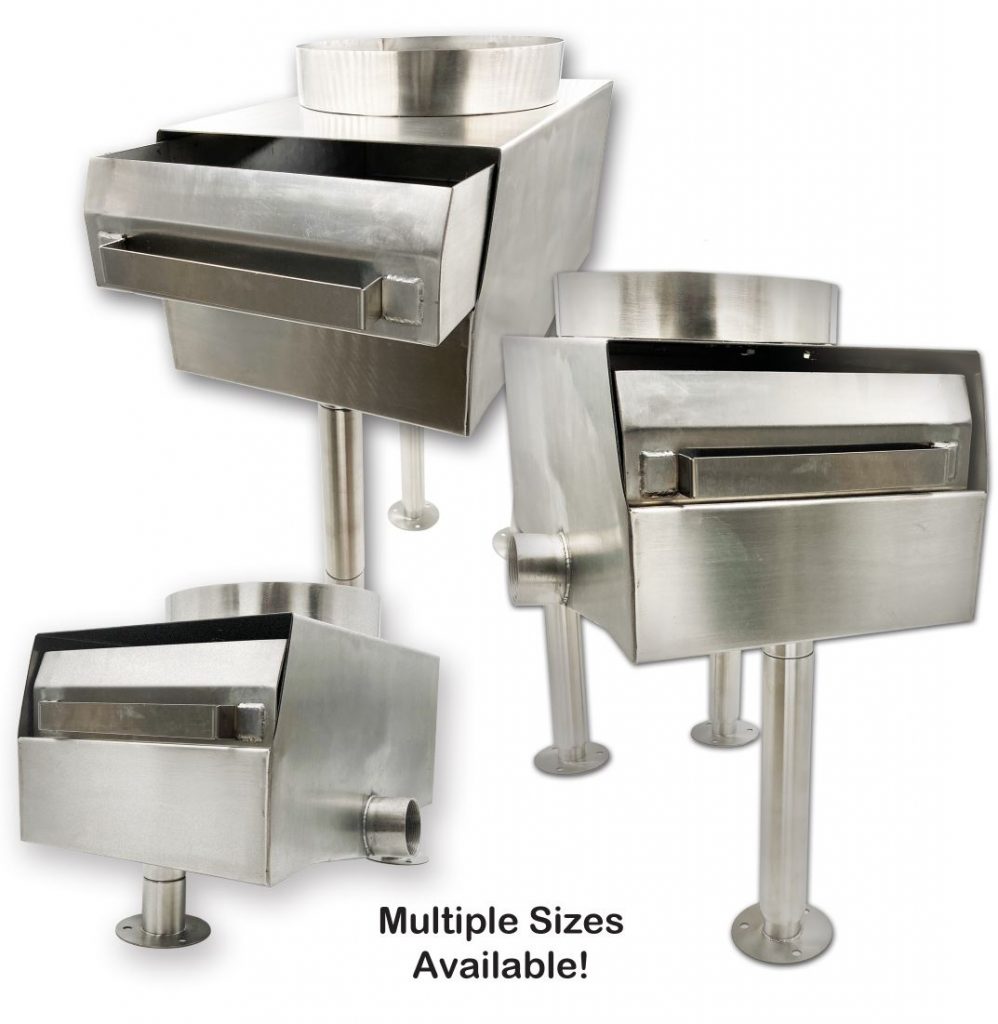 Our Garbage Disposal Replacement Strainers (also called wet waste interceptors) separate solid food particles and water in commercial kitchen sinks. Dishwasher sinks, 3-compartment sinks, and other commercial sinks have to be able to handle large amounts of food waste which can cause drain backups and plumbing clogs. These wet waste interceptors improve drain line and grease trap efficiency.
These products are a great alternative to electric garbage disposals because they do not require electricity and do not have dangerous mechanical parts.  These products are sometimes referred to as food scrap collectors, flat strainers, and garbage disposal replacement unites.  Whatever you call them, make sure your plumbing problems are a thing of the past! 
Learn more at: https://www.drain-tech.com/garbage-disposal-replacement/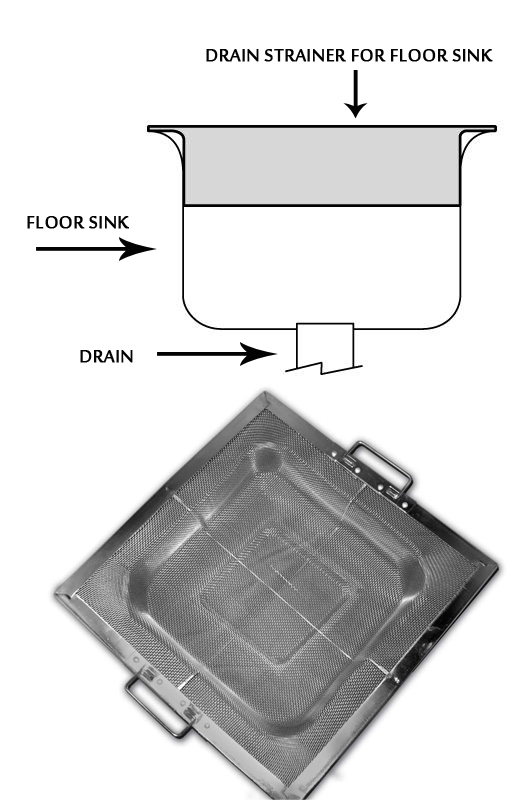 Floor drains can be a life-saver in many areas of a restaurant, as numerous pieces of commercial kitchen equipment require a drain to prevent water from leaking all over the floor, creating a potentially hazardous workspace. However, Drain-Net has provided an answer to this issue with its 8 1/2" x 8 1/2" Stainless Steel Floor Drain Strainers (SLF-10). These drain strainers will allow water to flow freely into the drain while stopping the material that may otherwise clog the drain from getting into the plumbing, saving your business from additional maintenance costs and pipe repairs.
This drain strainer basket is a 7 1/2″ square so that it fits 8 1/2″ floor sinks.  It is 2″ tall.  It has an 11″ flange with handles for easy removal.  The fine mesh is ideal for straining small particles such as rice and seeds.
We have a new online sales price for these strainer baskets.  Purchase it today!
We realize that the idea of preventative plumbing is not always common place in the foodservice industry.  Many people have grown use to "reacting" to plumbing problems when they occur and just count it as a cost of doing business.  We are on a mission to change this approach.  Sometimes restaurant managers tell us "I see the benefit of your products, but I'm not sure the restaurant owner will want me to spend the money on an unfamiliar product."  To help convince those doubters, we are providing you with a list of the Top Ten Benefits for Preventative Plumbing:

1. Fewer plumbing expenses because preventing drain clogs also mean less calls to a plumber for emergency repairs and drain line jetting.

2.  Prevent wet floors which are a common cause for slip and fall accidents. Restaurant owners decrease their liability and increase employee safety.

3.  Reduced risk of expensive repairs to piping and sewer lines which can result when bags, rags, large seeds, and other solid waste clog grease traps and pipes.

4.  Increase efficiency of grease trap do to reduced debris.

5. Lower risk to city fines for violating wastewater discharge compliance standards

6.  Reduce or eliminate drain flies which are attracted to the "gross stuff" that builds up in drains when not maintained.

7.  Increased employee productivity when they don't have to handle flooded floors and emergency drain backups.

8.  Decreased frequency of grease trap servicing/pumping due to reduced solid waste in grease trap.

9.  Eliminate the need for chemical pipe cleaners which can be very harmful to the environment and dangerous for employees to handle.

10.  Reduce or eliminate repulsive odors that can occur when debris builds up inside of drain lines.