Drain-Net has developed a highly popular waste interceptor product line we call GDRU's.  However, this commercial kitchen necessity can be called many things.

We call it a GDRU (Garbage Disposal Replacement Unit) because it can replace mechanical garbage disposals which have been outlawed in a number of states.  Instead of grinding the food waste and wasting precious freshwater for flushing, the strainer-drawer in GDRU strains solid particles under the pre-rinse sink when dirty dishes are being pre-rinsed, affecting a much needed pretreatment process of restaurant wastewater.
A GDRU can also be called an "Indirect Waste Interceptor".
Many states such as New York and New Jersey have passed laws that require restaurants to install indirect waste units.  A typical plumbing code states, "Indirect waste connections shall be provided for drains, overflows, or relief vents from the water supply system, and no piping or equipment carrying wastes or producing wastes or other discharges under pressure shall be directly connected to any part of the drainage system."  Our versatile GDRU's can easily be installed to meet this requirement.  An air gap can be created before the inlet or after the outlet to meet the indirect connection requirement.
A GDRU can also be called a "Grease Trap Pre-Strainer."
Grease Traps and Grease Interceptors primary function is to separate grease from wastewater.  However, debris filled water can quickly accumulate in a grease trap, rendering it ineffective.  A GDRU should be installed before waste water reaches a grease trap.  Commercial kitchens who install Garbage Disposal Replacement Units see a dramatic improvement in grease trap functionality and can reduce grease trap service visits.
Believe it or not a GDRU can go by even more names such as an "Indirect Waste Separator," "Food Waste Separator," "Flat Strainer," "Indirect liquid waste separator," or a "Wet Waste Interceptor.  Whatever you call the product, you can be sure that your restaurant or commercial kitchen will stay compliant with local plumbing codes and that your drains stay free of food waste.
Click here to view our Garbage Disposal Replacement Unit product line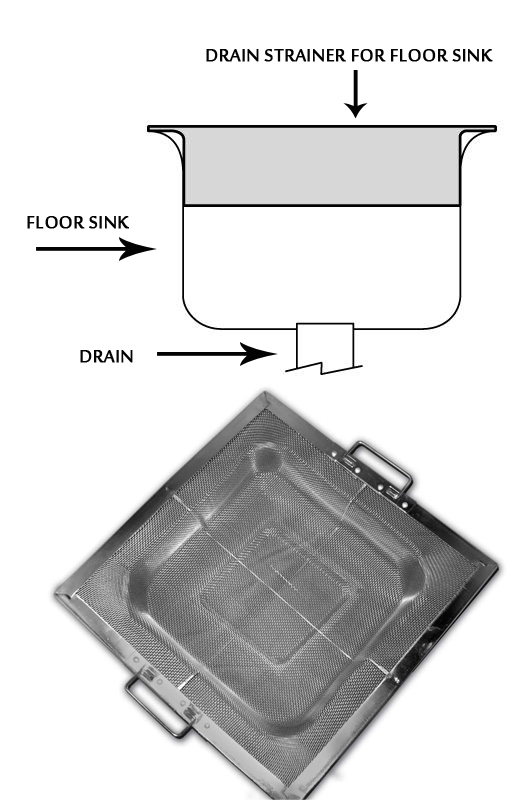 Floor drains can be a life-saver in many areas of a restaurant, as numerous pieces of commercial kitchen equipment require a drain to prevent water from leaking all over the floor, creating a potentially hazardous workspace. However, Drain-Net has provided an answer to this issue with its 8 1/2" x 8 1/2" Stainless Steel Floor Drain Strainers (SLF-10). These drain strainers will allow water to flow freely into the drain while stopping the material that may otherwise clog the drain from getting into the plumbing, saving your business from additional maintenance costs and pipe repairs.
This drain strainer basket is a 7 1/2″ square so that it fits 8 1/2″ floor sinks.  It is 2″ tall.  It has an 11″ flange with handles for easy removal.  The fine mesh is ideal for straining small particles such as rice and seeds.
We have a new online sales price for these strainer baskets.  Purchase it today!
Did you know that as solid waste collects in your grease trap the capacity is diminished, decreasing its ability to separate and capture grease, even to the point of complete ineffectiveness?  The best product to keep your grease trap operating correctly is a Grease Trap Pre-Strainer.

One of the primary causes of drain clogging and backflow in restaurants is the waste and debris that comes from food preparation and ware-washing sinks. These grease trap pre-strainers intercept 98% of solid particles from wastewater before they reach your drains, grease trap, and facility piping.  Features of the Grease Trap Pre-Strainer include:
Removable tray allows user to empty solids into a trash receptacle in seconds
One unit can handle multiple sinks (up to 18 gallons per minute)
Adjustable height for easy installation
2" connection from either side
Durable stainless steel construction
Click here to view Drain-Net's full product line of Grease Trap Pre-Strainers.