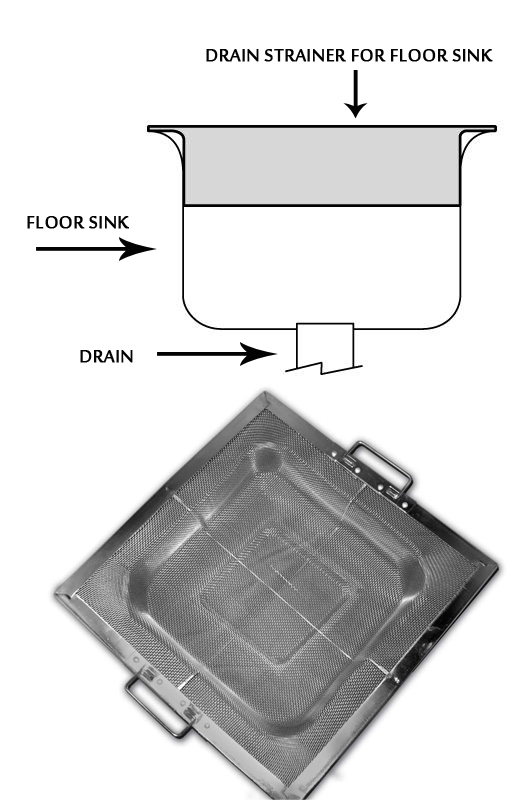 Floor drains can be a life-saver in many areas of a restaurant, as numerous pieces of commercial kitchen equipment require a drain to prevent water from leaking all over the floor, creating a potentially hazardous workspace. However, Drain-Net has provided an answer to this issue with its 8 1/2" x 8 1/2" Stainless Steel Floor Drain Strainers (SLF-10). These drain strainers will allow water to flow freely into the drain while stopping the material that may otherwise clog the drain from getting into the plumbing, saving your business from additional maintenance costs and pipe repairs.
This drain strainer basket is a 7 1/2″ square so that it fits 8 1/2″ floor sinks.  It is 2″ tall.  It has an 11″ flange with handles for easy removal.  The fine mesh is ideal for straining small particles such as rice and seeds.
We have a new online sales price for these strainer baskets.  Purchase it today!

Every floor sink needs to have a strainer basket to keep food, trash, and debris out of their floor sink drains.  However, sometimes these floor sinks are hard to reach, making it difficult to empty and maintain.  Drain-Net has solved this problem with the Extedo-Net.  Drain-Net can add an extending handle to any floor sink basket for easy installation and removal.  Choose the length you need (standard sizes includ 1,2,3, and 4 feet long).  Get yours today!